Biography of Donald M. Haefele
Author of: "Memorial"
The photographs shown on this Web site are from the book, "Memorial".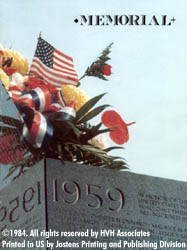 Donald Haefele grew up in Rochester, N.Y. graduating from John Marshall High School. After high school, he enlisted in the U.S. Navy during World War II. He served in the U.S. Navy from 1944-46 in the Philippines. Don was in the Navy Reserves until 1950.
Donald Haefele was a Greece Central School District Administrator for more than 30 years. In 1950, he began his career as a teacher at Hoover Drive School and then became vice-principal at Greece Olympia High School. In 1961, he became principal at Hoover Drive and five years later, principal of Arcadia High School. In 1969, Don Haefele opened Athena High School. He retired in 1981.
He then turned his interest in photography into a second career. Besides nature subjects, he became interested in the Vietnam Memorial after the son of a close friend was killed in action. While photographing the soldier's name he became "caught up" in the beauty and reflective quality of the Wall. His book, "Memorial" is the result of his passion to try to capture its effect on the veteran's and their loved ones.
"I wanted to show that the Vietnam Memorial is really special, that we've finally welcomed them home", Haefele says.
Book: "Memorial"

The following information was written in 1982 by Don Haefele.

The genesis of the book was two-fold in nature. In the first place, I had two of my three sons, Daniel and Matthew, serve in Vietnam in consecutive years 1969 and 1970. Dan was seriously wounded while fighting the enemy in Mekong Delta. He recovered from his wounds and was sent home.

My thankfulness for their safe return has not diminished over the past 13 years. It was not until I visited Vietnam Veteran's Memorial in Washington D.C., last November 1982 that I understood how I might express my thankfulness. By portraying in a photographic, artistic and verbal way, the beauty of the Memorial and its impact on veterans, the parents and friends of Veterans as well as all the other visitors to the Memorial. All the photographs, stories, and art work focus on the Memorial, not the war.

The book, "Memorial", also documents sculptor, Frederick Hart's work in clay to the time when the statue was to be bronzed. Over a two year period, I followed Frederick Hart's progress on the clay statues.

These 3 men contributed their combined talents to produce the book "Memorial"

Don Haefele – retired teacher and principal Greece Central School District
William R. Veenis – Language Arts Supervisor in Greece
Stephen Haefele – freelance Artist and Illustrator

Donald M. Haefele passed away on March 30, 1999.

Don's three sons and his wife reside in Western, N.Y. state

Information submitted by Shirley J. Haefele (Mrs. Donald M.)